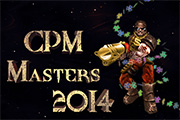 So it's been a month since the pre-announce and it's time to assess the situation.
CPM Masters 2014
will take place in full double elimination system, with Qualification stage on 12th & 18th of October, Finals in November.
Given the current amount of donations from the European community equals mighty
$50
(thanks to

xou
for that), with a total of
$374
as of 5th of October, the mode for the Cup, for obvious reasons, is 1v1. No suggestions have been made as of now on the map pool, so it is to remain neo-classic.
Newcomers, experienced players and veterans - all are welcome to participate and fight for the prize!
Donations are accepted via PayPal to
[email protected]
from anyone willing to take part or show some support for

CPMA CPM. Please include your name in the transfer donation, so that your support could be made known in public.
No broadcasters have currently planned to stream the event. Contact the admins if you want to be the first.
Links
: 1st Qualification:
Sign-up
,
Tournament page
- 2nd Qualification:
Sign-up
,
Tournament page
-

#masterscup
Edited by xou at 17:29 GMT, 4 November 2014 - 32491 Hits