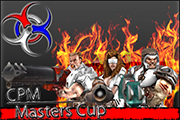 View Coverage:
masterscup
Organiser:
gaiia, ethad, nevergreen, dez, godzie
Website:
http://challonge.com/users/dez_
Location:
online
Duration:
4 Nov 2014 to 4 Nov 2014
It's been a long time since the last Q3 Promode tournament with actual prize pool (as in 'more then 20 bucks') took place. Tears have been shed about the grim future of Promode, glorious fights that have been fought, great time we've had and so little hope we had left over the past few years.
The #promode.ru community is organizing a worthy tournament with a prize pool to spice up the challenge and make things a bit more interesting. Most of people still involved in community donated so this is where it kicks in.
Edited by xou at 17:27 GMT, 4 November 2014 - 14754 Hits