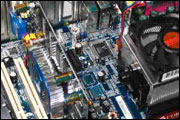 I have an RZ2233 which apparently has about 10 ms input lag, so I propose the following question.
Opponent 1 has a monitor with virtually no measurable input lag and 20ms ping.
Opponent 2 has a monitor with 10ms input lag and 10 ping.
Assuming all the other conditions are identical and get good performance, is it a fair fight, or would 10 ms from the bandwidth be better or worse than the 10 ms gained from input lag?
In other words, is input lag on a 1:1 basis with bandwidth lag the same thing?
I'm talking about this from a mostly LG/RG perspective too.
P.S.
27 inch monitor or 24?
Assuming same internals, would you react faster and get better percentage on the bigger screen?
Edited by qmau at 13:55 CDT, 8 May 2017 - 236 Hits