A Berkshire man has been jailed for posting abusive messages online about a schoolgirl after she committed suicide.
Sean Duffy, 25, of Reading, was handed an 18-week sentence for posts on social networking sites about Worcester teenager Natasha MacBryde.
He previously pleaded guilty at Reading Magistrates' Court to sending indecent or offensive communications.
Police said Duffy also posted abuse about dead teenagers in Northumberland, Gloucestershire and Staffordshire.
Duffy admitted two counts of sending a communication of an indecent or offensive nature. The charges related to Facebook and YouTube posts about Miss MacBryde, 15, who Duffy had never met.
She had thrown herself under a train in February after being bullied.
Duffy subsequently posted messages on a remembrance page set up by Miss MacBryde's friends.
In one of the posts he called the teenager a slut. He also posted a video on YouTube, entitled Tasha the Tank Engine, showing the children's character Thomas the Tank Engine with Miss MacBryde's face.
The magistrates were also asked to consider three other cases when sentencing Duffy.
He had also posted offensive messages, known as "trolling", about Lauren Drew, 14, of Gloucestershire, who was found dead after suffering a suspected epileptic seizure, Hayley Bates, 16, of Staffordshire, who died in a car crash, and Jordan Cooper, 14, who was stabbed to death in Northumberland.
Magistrates also gave Duffy an Asbo, banning him from using social networking sites for five years.
http://www.bbc.co.uk/news/uk-england-berkshire-14894576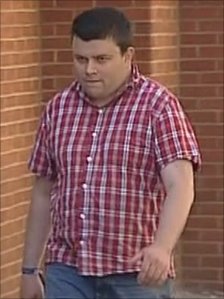 the internet troll personified
Edited by xou at 11:29 CDT, 13 September 2011 - 24230 Hits