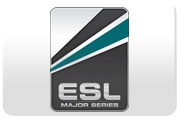 Now it's official: The upcoming ESL Major Series Season IV will support Starcraft Broodwar again. After the great success of the first season, we've decided to give this great game another chance.
This Season will have 750€ prize money:
1st Place - 450 Euro
2nd Place - 200 Euro
3rd Place - 100 Euro
Of course, we will have like in the last Season a weekly coverage via ESL-TV. So you are able to watch this hot games live (always Mondays at 15:00 CDT)! After the matches, you can download the replays of the other games or watch the VoD again. The shows will be mainly in German.
More info:
EMS announcement
-
Cup Dates
Edited by Nicky at 06:16 CDT, 18 March 2009 - 8345 Hits