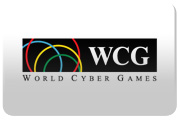 Register now for

WCG08 Online Qualifiers
The search is on to find the best players and teams in the

UK in the games selected for this year's World Cyber Games. The WCG08 Grand Final is to be held in Cologne,

Germany in November this year and games include:

Age of Empires,

C&C,

FIFA,

Guitar Hero,

CS1.6,

Halo,

NFS,

PGR,

StarCraft,

Virtua Fighter and

Warcraft III.
Before you can be crowned World Champion you need to qualify. Registrations are currently open for a series of online qualifiers as part of this search and you'll need to signup if you want to stand the best chance of being selected. Matches will be played throughout June and July and if you do well in the online qualifiers you will be invited to the National Final at

M Festival in August, where the best of the best will battle it out on a high-speed LAN to decide who will be representing the UK in 2008!
Do you have what it takes? Registrations close at 6:00pm on Monday 16th June, so what are you waiting for? Head on over to the signups and
register
Links:


Official UK WCG Website

M Festival, National Final host

International WCG Website
Edited by Badb0y at 17:48 CDT, 10 June 2008 - 15894 Hits