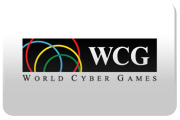 View Coverage:
WCG'08
Organiser:
International Cyber Marketing, Inc.
Website:
http://www.worldcybergames.org
Location:
Various
Duration:
1 Jan 2008 to 8 Nov 2008
As one of the biggest and most celebrated global competitive gaming tournaments, WCG enjoys a high profile world wide. Since the first World Cyber Game Challenge in 2000, players from over 70 countries participate in national tournaments to win one of the coveted qualification places. The national winners represent their own country in the Grand Final, a huge gaming event that takes place in a different country each year. This year the final will take place in

Cologne, Germany.
The games list is as follows:
PC Games

Warcraft III: Frozen Throne (1v1)

Starcraft: Brood War (1v1)

Counter-Strike 1.6 (5v5)

FIFA '08 (1v1)

Need for Speed: Pro Street (1v1)

Command and Conquer 3: Kane's Wrath (1v1)

Age of Empires III: The Asian Dynasties (1v1)

Carom3D (1v1)

Red Stone
(4v4)
Mobile

Asphalt 4 (1v1)
XBOX 360

Project Gotham Racing 4 (1v1)

Guitar Hero 3 (1v1)

Halo 3 (4v4)

Virtua Fighter 5 (1v1)
Edited by xou at 09:29 CST, 10 November 2008 - 7509 Hits