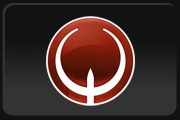 Hey guys! I'm back with another pair of interviews! This time, we have

zorakwar
and

easytarget
.
Interview
with

zorakwar
(
QLH
,
QLR
)
Zorak talks about his Quakecon experience, how he times items, and other games he has played in the past.
Interview
with--Faceit's social media director--

EasyTarget
Easy goes over his experiences with various organizations he has worked/volunteered for, his thoughts on cheaters, and the future of Quake Live.
Links:
DuelCraft