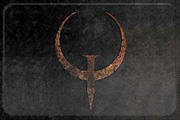 QUAKE 4 IN QUAKE
GAMEPACK BY THEMRBENPULIDO
---------------------------
Welcome to the history of Quake 4 in Quake a total recreation of all the missions of Quake 4 in Quake.
DONATION
--------
You can make any donation for my work to my paypal account:
paypal.me/themrbenpulido?country.x=VE&locale.x=es_XC
DOWNLOAD
-------------------
https://www.moddb.com/mods/infernal-stroggos/downloads

HISTORY
-------
Welcome to this new hellish adventure with our hero Ranger. This time Ranger traveled in time through an unknown portal and realized that the homeworld of
the Strogg was invaded by demons. This story takes place in some alternate universe where the planet Stroggos is now home to the infernal demons.
Can you survive on this planet? It's basically Quake 4 in Quake 1.
DETAILS
--------
You will enjoy the following in this modification:
.Remastered Music from the official expansions (although you may already have them).
.Quake 3 music on some maps.
.Similar recreation of quake 4 maps in quake.
.New graphical interface.
This mod needs:
. Darkplaces or QuakeSpasm
INSTALLATION
---------------------------------------
1) Extract the quake4 folder to your quake directory.
2) Extract the music folder inside the id1 folder of quake.
Note: For DarkPlaces you need to create a folder inside the id1 like this /id1/sound/cdtracks/ to listen music in DarkPlaces Engine.
3) Open DarkPlacesQuake4inQuake.bat or Quake4inQuakeSpasm.bat file and play!
ENJOY!!
VIDEO
-----------
https://www.youtube.com/watch?v=kWw9pFtk-CE
4520 Hits