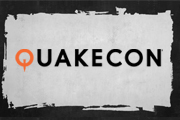 The Quakeworld Road2QCon tournament, known as the
TrueDamage International 2on2 Series
, is complete. Here are the results heading into QuakeCon:
1.



Ragnarok
2.



Rune
3.



Thump4 Serp MAGA
4 .


Plague Goats
5 .


DRKN
6 .


AeronautS
7 .


Red Threat
8 .


Whiskey Tango
9 .


BloodBogo
10.


Rebellion of Thunder
11.


IOWA
12.


Kilcoini
QuakeCon 2016
, only a few days away, celebrates the 20th anniversary of Quake. This year will feature a $25,000 2on2 quakeworld tournament. The first time this game was uniquely featured in a tournament at quakecon was in 1996, when netquake was the premiere competitive mode, and the last time this game was featured was in 1997, when

Dan "RiX" Hammans won the prizeless tournament. During this same quakecon in 1997, id software co-founder John Carmack met his future wife. So come along and join us at Quakecon, where you can meet your future wife!
Edited by TheEarl at 17:56 CDT, 25 July 2016 - 7642 Hits