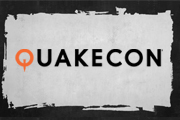 To celebrate 20 years of Quake, we're pleased to announce this year's official tournaments to be held August 4-7, 2016 in Dallas, TX in the Wedgwood Ballroom at the Hilton Anatole Hotel.
Players from around the globe will once again come together to compete for their share of $25,000 cash in the QUAKEWORLD 2on2 Team Deathmatch Open and the Quake Live masters will be invited back to battle for the 2016 title in the QUAKE LIVE Duel Masters Championship.
Official QuakeCon 2016 Tournament details and registration information can be found below:
For all the official details on QuakeCon tournaments and trials, including rules, requirements, prize money distribution, pool of arenas and additional information, visit
www.quakecon.org.
Edited by zaggs at 15:45 CDT, 12 May 2016 - 146012 Hits