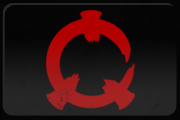 ..aka. Reflex alpha 0.36 preview.
..aka. And you thought Reborn/Diabetical had hard time making up their minds?
http://www.reflexfps.net/forums/index.php?/to...6-preview/
Reflex devs basically admit that they changed to a lazier artistic style in order to increase their production efficiency, so there's not really any point in pointing that out except for expressing pure acceptance and man cries. Those who dislike the minimalistic style can help themselves the best by just simply staying disappointed and moping in the dark. Regardless the low bar they set their visuals to, the plus side of course is that the game will now progress faster in other meaningful departments such as new UI stuff for map editor as seen on the topic, but the subject is still kind of hard to let go without shredding at least a tear or two.
Even though I and plenty of other people are excessive picmip fanboys, I realize the loss of quality frag movies are now going to have in general. Also I realize the value other arena shooters had with you being able to present your videos to your friends with picmips off and highest conceivable quality, because it's more pleasant to watch for new players and old players alike. If you think about it how good looking movies you can produce with Quake Live visuals, imagine a game with texture normal/depth maps and other neat shaders that weren't supported by Q3/QL. It's a tragic loss of potential on that end, but as long as you're just simply playing the game it doesn't really matter much especially if you're a full brown picmip fag like me in the first place. What do you guys think?
29198 Hits