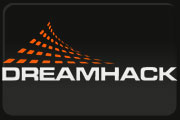 Scheduled: 19:30 GMT, 20 November 2013 to 20:30 GMT, 20 November 2013
Schedule:
Passed
The signup deadline for the

DreamHack Winter 2013 Quake Live Tournament
passed about 2 weeks ago. There were some unfortunate drop outs from the tournament. Sadly

p0ni
,

Sl1p
,

fire_bot
,

pavel
and

strenx
. We've found some great replacements though.

brescia
,

luukets
,

no_il
and

_gory
, where all of them (as far as I know) make their first international lan debut.
As you can see there's one spot missing in low seed and we're working hard on finding a replacement. We have a name under discussion but we haven't received confirmation on his part that he can make it. We'll announce it as soon as possible though!
On Wednesday 19:30 GMT, 20 November 2013

Zoot
and

Ins
will host the group drawings live with a number of surprise guests! Tune in to
ZootLive
!
Update
:

jewRo
will be the last replacement, which means that the player list is complete once again.
Links:
ZootLive
,
DreamHack.se
Edited by zoot at 21:05 GMT, 20 November 2013 - 221249 Hits