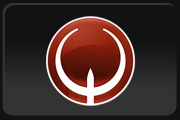 Images from the Quake Live tournament at DreamHack 2012 day 2.
I will continue to post more pictures during the day and some videos perhaps.
Im taking requests! What would you like to see?
Edit: A short clip of Cypher playing
http://youtu.be/OfZXdcoBv3g
Edit: Added a clip of the area and some of the players aswell as the casters.
http://www.youtube.com/watch?v=B05uaI35-BU
Edit: Some pics and a clip of when cypher lost the second map to pavel. "MUST WATCH" (c) ani
http://www.youtube.com/watch?v=czMmsi5m-o0
Edit: more pictures added. 20:06
Edit: Some pic of Cypher vs Evil and also a movie of the last minute.
http://youtu.be/CNpPU8nb0PY
21:22
Edit: Last pics for the night, Dkt vs sc00t.
Thanks for watching, Good night and see you tomorrow! 22:37
Bonus movie:
http://www.youtube.com/watch?v=Wg3q5PCplaI
Edited by hydde at 15:39 CDT, 17 June 2012 - 9674 Hits