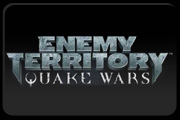 Enemy Territory: Quake Wars (ET:QW)
is a first-person shooter video game, and is the follow-up to Wolfenstein: Enemy Territory. However, it is set in the same science fiction universe as Quake II and Quake 4, with a back-story serving as a prequel to Quake II. It is the second multiplayer-focused game in the Quake series (after Quake III Arena). Quake Wars features similar gameplay to Wolfenstein: Enemy Territory, but with the addition of controllable vehicles and aircraft, asymmetric teams, much larger maps and the option of computer-controlled bots. Unlike the previous Enemy Territory game, Quake Wars is a commercial release rather than a free download.
The gamers wishes was to integrate bots on- and offline, and a tutorial trainingsmode (movies, tooltips), so Splash Damage had done it.
Enemy Territory: Quake Wars was developed by
Splash Damage
for Windows using a modified version of

id Software's
Doom 3 engine and MegaTexture rendering technology.
Promotional Video
[stage6=http://video.stage6.com/1671492/.divx,320,180]
System Requirements
Demo
:
Demo v2.0 - 17 Jan 2008
10 September 2007
Patches
:
v1.4
(changes of patch 1.4)
v1.2
Linux
:
v1.4
v1.2
SDK
:
v1.4
Community Mods and Utilities
:
ETQWPro v0.01
ET:QW Community Corner
ETQW Tweaker & Launcher
Mini Mizor
Stock Maps
:
Ladders
:

ClanBase

ESL
Live2Win Gaming League
Helpful Links
:
Oiffcial News
Official Forums
crossfire.nu News
Quake Wars 4 Newbies
(FAQs, Tweaks, Scripts, Classes)
Tutorial Video Series by GreasedScotsman
Clanbase OpenCup Fall 2007
(Final Demos from match dignitas vs 4K, patch 1.4)
gamestv.org
(Matches for ETQW TV, to watch EQW TV machtes you need no cdkey, but a uptodate game installation)

IRC Channels
:




(For information to be added to this FAQ please iMsg the author or post below)
Edited by Badb0y at 09:32 CST, 4 February 2008 - 35336 Hits