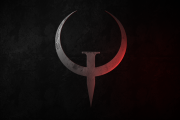 Following some minor patches in the previous weeks, the 6/27 Quake Champions Patch introduces
new Duel mode dynamic
(best of 5 instead of best of 3), Clutch champion improvements,
rocket delay fix
, HMG nerfing, and new spectator features for better streaming experience. Check out the full Patchlog below:
"Tomorrow (June 27) at 6am ET, we'll be conducting maintenance to deploy our latest patch. With this patch, we are expecting a longer than average server downtime, with an estimated reopen time of around 2pm ET. We'll keep you posted as soon as the servers are back up. Below are the full patch notes. One note in particular that we'd like to address is a fix we're implementing to greatly reduce latency in firing rocket/nail projectiles. To help illustrate the changes, we've included an image to show latency between Quake Live, CBT 11 (pre-6/27 patch), and CBT 12 (the 6/27 patch). We look forward to hearing your thoughts after the patch goes live with this change.

As always, we look forward to hearing your feedback once these changes go live. Thank you, all!"
Additional Info:
Source:
Bethesda.net
Edited by Nukm at 04:29 CDT, 27 June 2017 - 11454 Hits