ESPN to air DOTA2 championships.
$5m, yes MILLION, 1st prize. $1.4m 2nd, $1m 3rd.
All the way down to $22.5K for 13th and 14th place.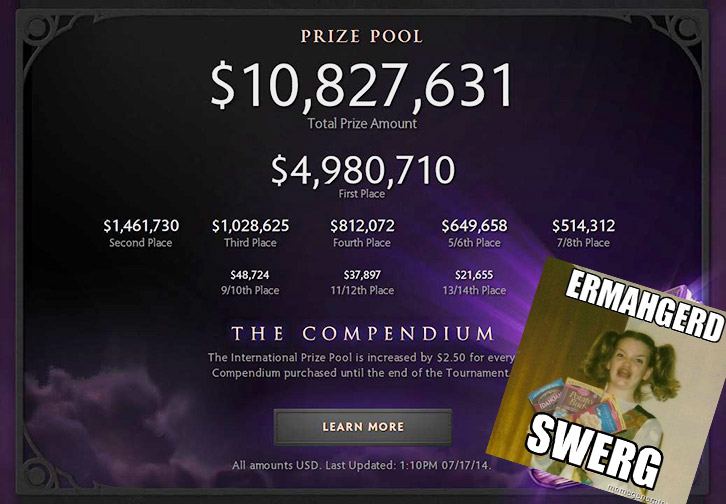 http://www.brightsideofnews.com/2014/07/17/es...pionships/
Made me rolf after hearing 'swag' being thrown around in the QuakeCon presentation.
Straight after watching the QCon14 finals (a combination of incredible speed, accuracy, skill (aim), prediction and strategy - all at a ridiculously fast and compressed pace), I found myself on the Twitch DOTA2 channel out of curiosity.
WTF.
There is no comparison. As hyped as the casters get, not much really happens. It's like comparing a slow drumbeat to a finger melting guitar solo from Joe Bonamassa.
ID - look at this. Look what is capable in the gaming world. Look what you could be earning.
Steam could be the start of something insanely good; it's a goldmine for player base and advertising reach/power. I'm not saying it has to reach this level, but heck, even 1/5th of the way and it's a huge success.
*Could be*.
Should. Quake is a high octane battle, which is exactly what this culture loves to watch (think sport, films and TV. Christ, even magazines!). Quake and it's players deserve this kind of recognition.
*Dreams*
EDIT: This is not about Quake vs DOTA2, it's about what Quake could be.
Edited by *b0se at 10:37 CDT, 21 July 2014 - 13297 Hits