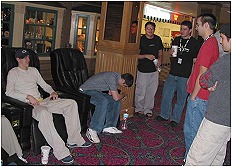 High hopes and aspirations for potentially one of the best tournaments of our time were floating in the air of a small apartment in Boston, Massachusetts where I and cha0ticz prepared for the Cyber X-Games.
How wrong we were…
Game after game we played, practicing hard, playing the maps we haven't played in so long with admiration to soar to the top of the event we were about to attend. Our games were on; we were playing really good, close games on all maps with full strategic knowledge banks.
But would this help us any at CXG? Nope, infact we should have been practicing playing on 3-4 hours sleep at 8am in the morning rather then the maps themselves.
Read on to see how the days progressed.
Edited by simonb at 15:47 GMT, 12th Jan 2004 - 257306 Hits