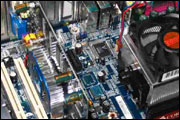 Hey guys.
Haven't posted on ESR for ages. Some people might remember me from the pre-QC era.
Anyways, as I bought a laptop for the first time in my life, I'm getting rid of my desktop.
My monitor is a Samsung Syncmaster 2233RZ (22", 120Hz).
You think I still can get some € for this lovely 11-year-old? I was happy with it, but I can't estimate the value. It doesn't have HDMI strangely enough.
Any advice would be appreciated.
https://www.cnet.com/reviews/samsung-syncmaster-2233rz-review/
Edited by Gladius at 14:59 CST, 28 December 2020 - 7494 Hits