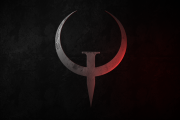 Aside from myself, I see two potential areas I can improve on with my gaming setup for quake champs, but could do with some input as I'm a out of the obsessive hardware loop which is easily done when you stop playing hardcore FPS.
Mouse & Screen.
Currently using Xornet 2 which I like a lot due to its light weight, and ergonomics, and two side buttons. But after watching this review (made hard to ignore by him being a decent looking quaker -
https://www.youtube.com/watch?v=IBCQWTNVg2c
), I'm kinda thinking there must be something better out there which offers similar weight, ergonomics. Does anyone have a problem with what he says about the offest of the mouse lazer position and is that a genuine concern or just placebo?
Currently looking at Ninox Venator which looks pretty perfect ergo wise and I'm guessing it has the latest tech.
http://ninox.co/products/venator
Any other suggestions for mouse which is small, light, two side buttons and has great sensor etc?
SCREEN: Having been using a 4k 60hz screen as my main, I plugged in my old RZ2233 this weekend for a certain closed beta game and I could not believe how much smoother and better it felt. But its an old monitor now and one of if not the first 120hz flat screens they did.
What would be the best replacement for it under the £200 mark, and (I don't mind buying second hand for better spec), or spending a bit more if I have to.
More importantly, is it really worth me upgrading this, I don't want to throw money away, if I'm moving on from the RZ2233, I expect it to make a positive difference, not just on the benchmark, but in game.
Is there anyone out there who will vouch for saying you will be a better player on the monitor you suggest, vs the one I have and what aspects of your quake did it improve.
I have 3 spare keyboards too :]
Thx.
Mon
Tue
Wed
Thu
Fri
Sat
Sun
1
2
3
4
5
6
7
8
9
10
11
12
13
14
15
16
17
18
19
20
21
22
23
24
25
26
27
28
29
30
Edited by Jamerio at 19:20 CDT, 16 April 2017 - 14277 Hits