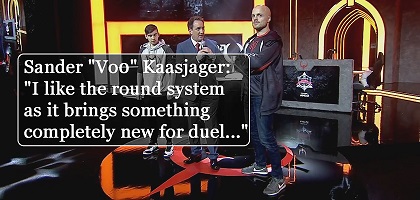 Vo0 on his runner-up finish at QuakeCon, Quake Champions and being a pro at 32
QuakeCon 2017's annual duel championship saw the return to competition for many of Quake's past greats. Of all the veterans, however, the one whose ID shone the brightest throughout the main event was Sander "Vo0" Kaasjager's, the runner-up whose only losses came at the hand of the 19-years old Belarusian phenom and an eventual champion, clawz. At the age of 32, regular people may think of cutting back on gaming, both as a recreational and and a competitive activity, due to either real life obligations or other interests. Vo0 isn't one of those people. For him -- the best Painkiller player in the world, back in the distant 2004 and 2005 -- the release of Quake Champions and the increased prize pools presented a perfect opportunity to get back into the active side of competition and once again feel the thrills of high-stakes on-stage play.
Several weeks after his second place finish, we had the opportunity to catch up with him and ask some questions regarding QuakeCon, Quake Champions and what does being a professional gamer at 32 mean for one's life.
You can read the interview on Inven Global, but here's a short excerpt.

In the two European qualifiers, you actually got to play several players from the CIS region's second tier whom we get to see only online, most of the time. How did they compare to the players you got to meet in the group stage and the earlier rounds of the playoffs at QuakeCon?

I did play a lot against some CIS players, and they are quite good. Comparing online results to LAN results is challenging, however, because some people are more comfortable at home than they are at an event. My group consisted of whaz, Steej and clawz. Whaz was at least as good as these CIS players, but I think Steej had some trouble adapting to my style. He did not handle my Anarki well on Corrupted Keep and Sorlag on Blood Run too well. The Australian scene is quite small compared to the European scene so we get to play many more playstyles.

In general, I think the scene in Europe is incredibly competitive. I predicted that the EU Regional qualifier would probably be tougher than the actual event itself, which is (for me anyway) kind of what happened.

If you want to keep tabs on all my future content you can do so by following me on
twitter at @RadoNonfire
. Hope you enjoy and feel welcome to let me know your thoughts on the interview!
Edited by RadoNonESR at 06:35 CDT, 24 September 2017 - 15518 Hits