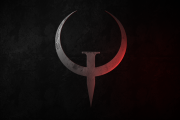 You can watch it here:
https://www.youtube.com/watch?v=tXhEqBWTJKM
- How did you get to NaVi, did you have any other variants?
- I got there as usual, by conversation with NaVi. I considered some proposals from different teams, wont name them now, many of them, but NaVi for me is the best choice not only because of their terms, thogh they were good, but because the team is closer to me.
- Cheering for them?
- Well I often coomunicate with the team from the time of their founding. Considering they repsresent CIS region, it suits me best.
- Did doreign teams also tried to contract you?
- Yeah, sure.
- Can you tell about Quake Champions, you impressions from the point of huge expirience. Whaat did they try to save, what new things they brought, what good and what not good yet?
- Well, i think that idea of creating variety of characters with dofferent abilities is 100% actual and promising. Duel mode will be one of the most popular, I think. I'm not pleased with development as a whole, because it's too slow. I have some expirience in gamedev, and I have some clue how that must be done, the speed of updates, upgrade of the game, and now im not seeing the level wich I would like to see. That's my only concern today.
- Any plusses?
- I said already - characters, duel mode, many severs, different settings which allow every player to set up their gaming profile individually, for me it's essential. The game is demanding enough for the hardware, you need to upgrade your rig, or you need to have a descent one already. Also i would like to admit that the game is free, it's not critical, but it's a definitely plus. Potential players dont need to spend a coin for the game, in comparison to Overwatch, which costs 2000 roubles, for CIS region its significant amount of money for players of lower age.
- Have you any favourite hero already?
- Well, I can't pick one, usually all the pros have some pool of heroes they prefer not in terms of "like" or "don't like", but how it technically suit thir style of play. My pool is Nyx, Ranger, Visor, Clutch, Scalebearer, that's all. I prefer characters with mechanics from standard Quake (means Q3), I don't like Anarki, Sorlag, which both use CPMA physics. But Clutch is not typical, i had to learn how to play him, because he's currntly actual. He is very strong, his ability and speed combined make him a top tier in comparison with others, so i have and I will to play him.
- It sounds like you dont want to play him.
- Well, at the start i didn't want to, I didn't like him. He is big, has huge hitbox, he catches every shot fired, do he recieves much damage, and it's hard to play when every shot hits you. But when he was fixed and boosted movement-wise, having fast charging shiekd ability which blocks incoming damage, after that he becamr pretty descent character.
- I got it. In the end three short questions. Mega or red Armor?
- It's situational, but i prefer armor.
- DM6 or ZTN?
- DM6 for now.
- Rocket or Rail?
- Rocket.
1298 Hits