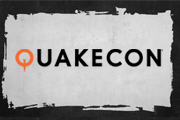 Feeling vigorously inspired by
jamalz
thoughts regarding the recent FaceIt spectacle, I've decided to open up a thread which promotes community input, tips, recommendations et cetera concerning the upcoming LAN event.
I'm going to split it all up neatly into different categories - Stream settings, general tips, things to avoid, things that we want to see, a wishlist.. I'll think of something.
Developers and organizers will be able to see highlights without going knee-deep in murky ESR threads.
Why am I doing this? Because I feel like although organizers, admins, volunteers and everyone else involved are working their ass off to make things run smoothly, sometimes all they need is a bit of a reminder. Scrolling through endless twitch chat emoticons and memes and looking for "solutions" is redundant once the games start.
What exactly am I looking for? Check the aforementioned
jamalz
post - Team games are incredibly hard to stream, most stream configs don't have binds for followkiller / followpowerup etc
Are you expecting them to cater to every stupid idea ESR comes up with? Definitely not, that's why I have a wishlist section and the stupid idea section, which I believe will be the most active one. Let's hope for a year without spinning logos.
Update:
Edited by Teen Queen at 11:05 CDT, 20 July 2015 - 41059 Hits