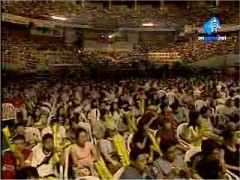 There will be no season four of the popular GomTV Classics.
The Korean e-Sports Player's Association
(KeSPA) and
Blizzard Entertainment
has had an ongoing war concerning the esport future of Starcraft 2 in South Korea and the first major battle seems to have been won by KeSPA.
Blizzard has for a long time been trying to get a larger piece of the pie that is generated by the massive Starcraft interest in South Korea. As their negotiations with the two largest tv broadcasters,
OGN
and
MBC
, failed, they then proceeded to sponsors GOM, an independent league in an attempt to make GOM the dominating Starcraft, WoW and WC3 body.
Over the past few years, with the help of a massive prize pool from Blizzard, GOM has grown to become one of the largest leagues. However, now it seems as this has come to an end as KeSPA has denied seven of its most popular teams from participating in the league, which in the end ment it would lose most of its popularity and hence it was forced to cancel the upcoming season. The affected teams were
Air Force, Estro, MBC, KT, OGN, STX, SKT1.
Who will win the war in the end? According to reports Blizzard and KeSPA will meet to attempt further negotiations in December.
Source: Fomos.kr
Edited by Paladia at 20:38 CDT, 25 October 2009 - 9926 Hits