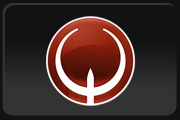 It is time again folks! On sunday the 17th we unfold the flags again! As usual everyone who wants to play is welcome under ONE condition this time:
You need to sign in on
https://qlstats.net/
and make your player profile active/public.
Otherwise I fear not even the great admins of the OMG crew can create decent teams :) It is gonna be mindblowingly good! Harosh has promised he's gonna grant us with his presence this time ;)
As always we gather here:
https://discord.me/omgleague
, in fact, get your lazy asses over there right away! Feeling rusty and fear you can't distinguish a red flag from a blue? Go to our Omega servers and see for yourself, there are games every night, starting at around 19:00cest
Pay a visit to our home page:
https://www.omgforthe.win/blog/5
where there is further information.
Maplist: Japanese Castles, q3wcp9 (Spider Crossings) and Reflux
Please help us out by forcing friends and family to participate \o/
Edited by BaMoFu at 05:08 CDT, 8 June 2018 - 5216 Hits