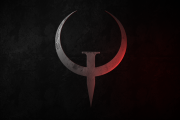 The gears of the Command Centre have fired up in response to a new Quake Champions patch.
TheSpudHunter
has assembled another 8 fine players from the Australian region to compete in
The Golden Potato 5
. Come and experience the crisp new hitboxes, the raw speed of patched-Galena, and the power of BJ Blazkowicz. Celebrate a tournament where Anarki players will likely get put in the ground. Brand deals, fast cars and a live studio audience. Can this week's contenders handle the pressure? We look forward to seeing you tune in when titans clash to decide this week's Golden Potato champion.
Tune in from 16:30 CST, 27 January 2018. The tournament will run for around 3-4 hours, followed by an afterparty with TheSpudHunter where you can shoot the breeze in chat.
Brackets:
TBA
Live Stream:

twitch.tv/TheSpudHunter
Links:

TheSpudHunter
,

phy1um
Edited by Teen Queen at 05:12 CST, 27 January 2018 - 6234 Hits