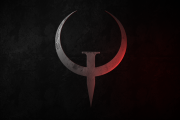 The Moscow's GRU experiment that was first introduced in Quake 3 is making the return to the quake champions roster. His notable active ability is called piercing sight - it temporarily reveals enemy position on the map. His passive ability called Grashopper circumvents the speed caps that other champions have and with enough skill, you can keep up with all champions.

From the Quake Champions website:
"Quake Champions – Visor Champion Trailer
Visor made his debut in Quake 3 Arena, and now he's back for more bloodshed in Quake Champions. This ruthless, unfeeling killer lives for the fight, and he's damn good at it. With his Piercing Sight active ability, Visor is designed to always be one step ahead of his opponents, making him perfect for any strategist looking to have some fun in the Arena."
Source:
Official website
Links:
Beta Signup/Official website
,

@QuakeChampions
,

Facebook
Edited by Teen Queen at 13:54 BST, 12 May 2017 - 37488 Hits