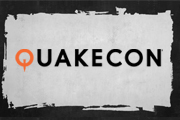 It's saturday night in Dallas,

rapha
just won the stage match against
infiplay.ru

evil
, and everyone is celebrating and enjoying the end of
QuakeCon 2015
.
It's 3:30am and I get the chance to sit down on the interview couch, my fellow audio recorder at hand, and chat with

rapha
,

cl0ck
and

ZeRo4
. They are the core of team

Found Em
, who had gone through an incredible series of events (and lineups) leading up to this tournament.
At first I thought this would be a short interview with just
rapha
touching a specific topic, but as the flood gates open wide, and more team members join the chat and add their perspective, I realize this is going to be a large piece, with many topics and side stories.
We end up staying there for more than one hour, going over the whole story of their preparation to the tournament, all the different line ups, and the behind the scene of some of the most dramatic acts.
Update
:

sparks' reply
to the interview.
Reminder: The views and opinions expressed in this interview are soley those of the interviewee. These views and opinions do not necessarily represent those of interviewer, the site, and/or any/all contributors to this site.
Edited by Memento_Mori at 01:48 CDT, 8 August 2015 - 241524 Hits
Hall of Fame: Hilarious (added to hof by Teen Queen)