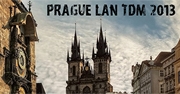 Latest update post.
With a little bit over a month before the signup deadline, the number of teams seems good so far and couple of more should be coming, hence I encourage the teams to start paying the signup fee. I also received couple of donations already, so there will be prizes after all \o/. Please also let me know about your approximate arrival on Friday, so I can create the schedule with delayed arrivals in mind.
Signed up teams:
4 old men ( fazz, fox, noctis, tybalt)
deliberate murder ( Latrommi, pavel, 421, reyka, unnamedtony)
l0wfly ( kanin, frs, gienon, snapcase)
Vertigo ( vespx, Premon, bestiooo, Lam)
Team CZE ( flatecek, krysa, fragma, debtorr)
* Onfire ( p1s, mdf, Kujiwa, a1r-r41d, Ulises31)
pigs ( ani, kill, muzyk, +1)
Team Evolution ( s7ry, tykke, kroyhun, +1)
Rebels ( Karby, brejk, He4rt, dloob)
* mini ( enjoy, centinela, tina, bonfire, liefje)
lemmings effect ( lars, prodx, gwynplaine, kinko)
* paid

If there is anyone interested in any kind of help or sponsoring, please let me know. If you have any questions, feel free to ask in the comments or #lan-prague @ Quakenet. If you can't find a team, but you would still like to attend, there's a
list of players
without a team. Contact me if you want to be added.
Links:

Previous post
,
District cafe website
,

Debtorr's video invitation
,

#lan-prague
Edited by wision at 09:58 CDT, 9 September 2013 - 47876 Hits