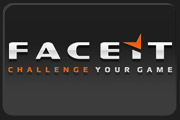 Scheduled: 08:00 CST, 23 December 2012 to 12:30 CST, 23 December 2012
Schedule:
Passed
After a Legendary Sunday, we are back with the FACEIT Sunday Cup, already the twelfth edition. Last cup is two weeks ago, so to remind you, Cypher won with evil taking second place.
Sunday Cup #12 is starting on 23 December at 09:00 CDT. Check-ins open an hour before that, at 08:00 CDT.
Sign-ups are currently already open
. If you are having problems logging in, go to
FACEIT.com
, log in (right top) and then click the link in the post.
Notable attendees:

dem0n,

matr0x,

cOOw,

agent,

pavel,

baksteen,

twister,
Reaper,

Cypher,

evil,

rehepapp,

guard
Commentary will be provided by

Daniel "
ddk
" Kapadia and joining him this week will be one of the Legends,

Sander "
Vo0
" Kaasjager. You can follow it on our
Twitch TV page
.
Stream:

FACEIT TV
Links:
Bracket
//

#FACEIT
,

FACEITCommunity
,

@FACEITcom
Edited by Badb0y at 18:42 CST, 25 December 2012 - 67995 Hits