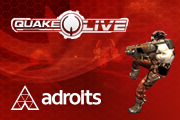 Bloodrun: 32% (58)
Toxicity: 28% (50)
Lost World: 23% (41)
Aerowalk: 10% (18)
Furious Heights: 6.7% (12)
The map pool for the upcoming Adroits LAN in October is already being discussed between the admins, and they need the community's help to determine the new list of maps for the tournament.
The aim is to
remove the least 2 popular maps
from the current map list and add in 4 maps that are not included in the current list, this will create a 7-map pool.
Please vote for the map you would like to see
removed
from the current map list. The 2 maps with the most votes by the end of the poll will be removed from the list.
Edited by xou at 13:57 BST, 22 July 2012 - 81754 Hits