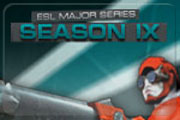 The Group Stage of the

ESL Major Series Season IX
is now finished and the Brackets for the final part of the competition are now known and published. As the top3 players from each group advanced to the playoffs, the 2nd and 3rd will play each others in the Eighth finals while the 1st directly advanced to the Quarter finals. All the matches will be played as best-of-5 and the system will be single Elimination. The first round is planned for Thursday 15th around 14:00 CDT!
During the Group Stage, a lot of players were removed due to noshows or inactivity (including some top seeds:

Cooller
,

av3k
and

Cypher
). In Group A, the classic duel match between

strenx
and

k1llsen
went in favor of the German player for the 1st rank and
Reaper
took the 3rd place over

tox1c
in a five-mapper.

GaRpY
had no problem topping Group B and is followed by

lotn1k
and

smoke
. Sadly,

fazz
decided to give up on duel and left the tournament.
For the Group C rankings, things weren't so easy.

spart1e
,

kRoNic
and

guismo
were perfectly tied for the 1st rank at the end of the Group Stage. The 3 players had to go through bo3 tie-breakers (results can be seen on their respective group matches pages), and
spart1e
came out first after being able to take a map from
guismo
in the only 3-mapper! Finally, in Group D

Sc00t
managed to defeat

agent
after a deciding map to take the lead, despite his loss against

reload
who's finishing at the third place.
Most of the demos and detailed results from the Group Stage are
available
. If some are missing, it simply means the players didn't communicate them.
Update
: Some games are live and streamed on

c58
. Also
zoot
and
owzo
should
stream some
, starting with
strenx
vs
reload
.
Links
:
Announcement
,
Brackets
,
Groups
-

#esl.quakelive
Edited by xou at 13:56 CST, 15 December 2011 - 10347 Hits