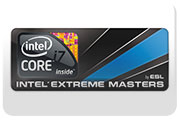 So, the next finals will be held in Hannover again. In case some of us are going, we need a thread, just like Memento_Mori's old thread (
http://www.esreality.com/index.php?a=post&id=1828265
).
I will be there from 3rd to 5th March to see all the final matches. If you need some place to stay, have a look at these sites/hotels:
http://www.fairhotel-sarstedt.de/englisch.htm
http://bedandbreakfast.de/hannover/index.php?lang=en
http://www.dhd24.com/azl/index.php?classid=4690
(Type in "Hannover" at "PLZ/Ort" and hit "Finden")
Let me know, if you have some more places to stay at.
Schedule
:
The event runs from
1st - 5th of March 2011
.
http://www.esl-world.net/masters/season5/hanover/
March 1st, Tuesday - All matches of

Group B,

Group A,

Group B
March 2nd, Wednesday - All matches of

Group A,

Group B,

Group A
March 3rd, Thursday -

All Quarter Finals and

ESL Pro Series Germany IFNG
March 4th, Friday -

All Semi Finals
March 5th, Saturday -

All Grand Finals
Tickets
:
You need a ticket to Cebit
The area age restriction is is probably 16+, just like last year.
You can try getting some free tickets by doing the following steps:
- Register at www.cebit.de (use your REAL data, cause your name is gonna be on the ticket afterwards)
- Go to https://www.cebit.de/en/application/registrie...gistrieren
- Use one of the following codes: mvdzk, t4uad, 7k5z5, 25c8q or cycka
- Check your mails :)
Participants:
unihumi (from 3rd to 5th)
nBk
becks ("most likely")
Sub_
Nukm
extaleR
TronicGgG
ZeriouS
deotrip (looking for a ride) :)
Edited by unihumi at 01:21 CST, 18 February 2011 - 19015 Hits