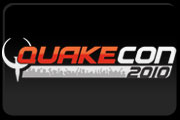 Community-run Broadcasting Organization Set to Provide Live Tournament Coverage from QuakeCon 2010
August 11, 2010 (Rockville, MD) – id® Software and Bethesda Softworks® today announced that
Quake Live TV
, a community-run broadcasting organization, is set to provide live coverage of the QUAKE LIVE™ tournaments at
QuakeCon® 2010
, being held August 12-15, 2010 in Dallas, Texas at the Hilton Anatole.
QuakeCon, which is free to the public, offers an unparalleled opportunity to see the greatest players in the world compete in highly-competitive matches. Participants will be vying for their share of over $50,000 in prize money. Top professionals will compete in the Intel®-sponsored QUAKE LIVE Masters Championship and the QUAKE LIVE Capture the Flag Championship while up-and-coming players will have the opportunity to prove their gaming prowess in the QUAKE LIVE Open Tournament. Quake Live TV will provide complete coverage of the official QUAKE LIVE contests and Bring Your Own Computer (BYOC) events.
The Intel® QUAKE LIVE Masters Championship will be hosted by world-renowned eSports commentators

James "
2GD
" Harding and

Joe "
Joe
" Miller while Quake Live TV commentators

Steve "
GreasedScotsman
" Huff and

Alex "
Jehar
" Popa, will be covering the Capture the Flag Championship, the QUAKE LIVE Open Tournament and the various BYOC events.
The live broadcast of The Intel® QUAKE LIVE Masters Championship will be available at
www.quakelive.com
with supplementary content syndicated on
www.quakelive.tv
. For European viewers, the broadcast will be recorded and replayed outside of tournament hours. With player interviews and BYOC tours and tournaments, Quake Live TV and its partners are poised to showcase more of the energy, excitement and behind-the-scenes drama of QuakeCon than ever before.
Attendees of QuakeCon will be able catch all of the intense gaming action up close in the newly created 250-seat tournament arena. Top matches will also be broadcast live each day of the competitions on large screens, complete with simultaneous play-by-play commentary by Quake Live TV shoutcasters.
Edited by QuakeLiveTV at 21:23 BST, 11 August 2010 - 53235 Hits