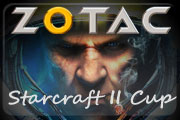 Scheduled: 07:15 CDT, 18 July 2010 to 13:00 CDT, 18 July 2010
Schedule:
Passed
Once again

GameSports.de
&

ZOTAC
bring you the

ZOTAC StarCraft II Beta Cup
, starting on Sunday 07:15 CDT, 18 July 2010, checkins will as per usual open at 06:00 CDT. There's
100 € price money
up for grabs and we'll be running with 1024 signups and 512. We don't know exactly how long the beta will run but this could possibly be the last beta cup before the game goes live.
Final:


mTw.DeMusliM 3
:1


Jimpo
Replays of Quarter/Semi & Final
Streams
:

GameSports
,

Millenium
,

sc2tv.ru
,

glhf.tv
Links
:
Info
,
Playerlist
,
Replaypacks of all Zotac SC2 cups
,

#zotac.sc2
Edited by xou at 08:09 CDT, 19 July 2010 - 5750 Hits