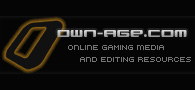 Two days ago Sean "
own-age
" Kuehnel has written a news item on his site saying that he's no longer willing to keep his site running.
It saddens me to write this post. But after almost 9 years of keeping this website up I am finally not going to support it anymore. The site is scheduled to go offline on 08-Oct-09. The past couple years I've been keeping the site up but being an extremely passive supporter of the site just making sure it is up and the server bills get paid for.

To all the people who helped and supported over the years, I can't thank you enough. I will miss you guys and the community that supported the site.

You can catch me on Facebook at: http://www.facebook.com/Skuehnel

See you guys around, Sean "own-age" Kuehnel.

own-age.com was a place that gathered thousands of movies from various games and it's forums contained helpful movie-making information. Apart from that, Sean "own-age" Kuehnel is well known for his quake3 movie "AnnihilatioN".
Source:
own-age.com
Edited by Badb0y at 14:42 BST, 27 September 2009 - 46597 Hits