QuakeCon 2006
Quake4 TDM Grand Final match between

Team Britney (
toxic
&
Ztrider
) and fnatic/atr (

2GD
&

blue
). The video was shot from the front row of the conference room where the tournament was being held. The video pans between a close up of toixic & Ztrider and their monitor screens and a wide angle of blue and the projector screen.
Video of the introduction of the pla
yers to the huge crowd on hand and video of the award ceremony is also included.
Audio commentary
is provided by
Radio iTG's

djWHEAT
and

ReDeYe
. The video runs 26 minutes and is featured in 1280x720 resolution.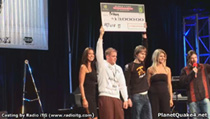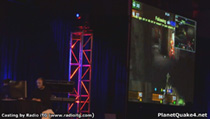 Movie File - Streaming Flash Video () 0MB
Movie File - Direct Download (quakecon_06_tdm_finals.zip) 194MB
Edited by RogeR1 at 11:35 CDT, 8 August 2006 - 11324 Hits