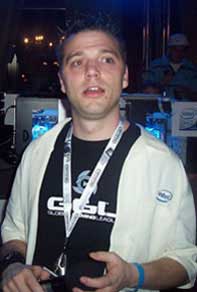 Full Name:
Darryl Kucmerowski
Timezone:
America/New_York
Homepage:
www•radioitg•com
E$ Money:
500 (500 available)
Buddy list:
Description:
Darryl "SyN" Kucmerowski
29 years old from Denver, CO
Started Gaming On Quake 1 - Moved to CounterStrike in beta 5.2
Played CounterStrike Competivly from 6.2 till Around Retail. Played in RiTD-i then in CAL-m
After Retail, i began to follow other ways to help eSports along.
Became a UGS Admin before they kicked off there first Season of play. Stayed as a UGS Admin for 5 Seasons. Was the Head Open admin for 3 seasons, Pro admin for it's first seaons and the PR and Media Director for one season.
While at UGS, Met up with GBL and the passion for shoutcasting began. Shoutcasting showed me a whole new world and way to bring gaming to not only the community, but potentially to the mainstream.
Stayed with GBL for about 6 months then Applied to TsN in October of '03
Was in TsN until March of '04 and then came to where i make my home now, Radio iTG.
Since coming to iTG in April i have covered:
2 IONgamers CoD Tournaments
cod-nations.com Cummer Cup
GGL Kickoff Show
Quakecon Kickoff Show
GGL CS Invite
Lan Attended:
EverLAN Summer 2004
Quakecon 2004
World Cyber Games Grand Finals 2004
E3 2005
ACON5 US Finals 2005
GGL V-Sports AllStars 2005
Newegg.com LANfest2k5
WCG US Finals 2005
GGL AmeriCup1 Finals 2005
Digital Life 2005
EverLAN 2006
Trans-Atlantic Showdown 2006
GGL V-Sports All-Stars 2006
E3 2006
ComicCon 2006
Digital Life 2006
Mon
Tue
Wed
Thu
Fri
Sat
Sun
1
2
3
4
5
6
7
8
9
10
11
12
13
14
15
16
17
18
19
20
21
22
23
24
25
26
27
28
29
30
31