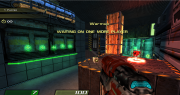 Hi folks!
We brought great
mapper Kryw
to give a shot at a
1.4.2 optimized map
.
Every Quake 4 maps were
designed way before 1.3/1.4 patches
, and are, for the most part, unoptimized when it comes to movements.
Even more with nowadays 240hz tickrate which also impact moves in a positive way.
After a few weeks of playing, it seems like this map can be played with very
fast gameplay
, pretty much CPMA style for anyone sliding decently.
It's optimized for Duel, but is fun on DM and 2v2TDM also!
A few screenshots with default Q4 lightning (r_vertexlight 0):

screen 1

screen 2

screen 3

screen 4

screen 5

screen 6
We are beta-testing the map intensively during this month and hope for a release in September maximum!
We could use any
suggestions/feedback
to make the best map possible, so please, feel free to join us, test the map and give your opinion!
Join us on discord here:
http://discord.gg/hRhu7BjeUG
Edited by PlayQ4.net at 17:36 CDT, 11 August 2021 - 2308 Hits