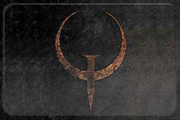 As fall of 2018 is approaching it is time to tuck away the sunglasses, rinse off the sun screen and crawl back into the man caves. The QuakeWorld scene is usually quiet during the summer, however things are starting to pick up again with a few different initiatives coming up in the near future.
For the team deathmatch lovers there will be a
4on4 allstars match
played on the weekend around 20th October with familiar names such as

Milton
,

Bps
,

Xantom
and

Rikoll
putting on a show for spectators to enjoy. There will be streaming arrangements and lots of games played.
For the players more into dueling the
2018 QuakeWorld Duel Showdown
might be a better cup of tea. This is a online 1on1 tournament played over four consecutive Sundays from 4th to 25th November. The tournament comes with two divisions based on player's skill levels with separate community funded prize pools for each of them. The map pool consists of dm2, dm4, dm6, aerowalk, ztndm3, bravado and skull.
Another 1on1 opportunity coming up is the 10th edition of the classic
Thunderdome 1on1 tournament
with its familiar division based setup. The map pool consists of Aerowalk, Bravado, DM4, Monsoon, ZTNDM3, DM2 and DM6.
Edited by Åke Vader at 10:31 CDT, 28 September 2018 - 12153 Hits