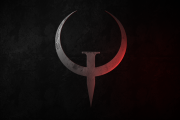 Join the biggest European Quake Champions community on discord and play pickup games everyday. As of today, we have 519 members.
Discord invite link:
https://discord.gg/gc6teC6
Available pickups:
2v2
-
2v2 TDM
duel
-
1v1
tdm
-
4v4
sactourney
-
4v4 sacrifice
sac
-
3v3 sacrifice
insta-na
-
4 player instagib with no abilities
We have a voice chat for every pickup and a streamers channel for you to share your streams.
A quick introduction for new players who haven't played pickup before:
Why play pickup?
Let's say you want to play a balanced Sacrifice or TDM game. Pickup does a few things for you:
1) captains responsible to manage balanced teams,
2) you don't have to waste time in game waiting for people to join. After you add to pickup - you'll receive a notification to join the game when there are enough people.
3) you'll learn the skill of particular players and what to expect of them in game, because you won't be playing with 'random' people who don't care, in pickup teamwork level will be increased, because you'll be playing with people who care and are available for tactics discussion before \ after the match.
How to play pickup?
example:
go to
#pickups
channel
post
!add sac
or a game mode of your interest, e.g. 2v2
Done! You'll be notified by the bot when the game starts.
To gather people faster you may
!promote
, invite people by sharing the direct link to the
QC Pickups Europe
server:
https://discord.gg/gc6teC6
Don't forget to leave a feedback in
#feedback-suggestions
channel! :D
Edited by Luscious at 07:57 CDT, 12 September 2018 - 2863 Hits