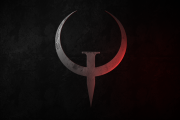 Hi all, here is another translation of interview with Cypher taken at MediaMarkt LAN in Moscow.
The video with interview is here
https://www.youtube.com/watch?v=BcKx4S5o45U
- Can you describe your impressions of the new Quake. What are differences, what's good and what's bad?
- Well, the game is very raw, lets start with this, so I wont be talking about the bad things yet. The good is - new champion system, abilities system, it brought some interesting new additions to the game, well, modernizing Quake to catch up with current games.
- How long do you play Quake?
- Well, I started with Quake 3 in the beginning, I was 10 or 11, my brother was Belarusian Quake Champion so I started to play looking at him. And i was inspired to win tournaments and to the age of 15 I played really hard and started playing professional at 16. Now I'm 27, so it's more than ten years already.
- It comes out that you're one of those guys who remember that most popular Quake that was massively played at computer clubs...
- Yeah, sure
- And you don't mind they trying to make hero-shooter of arena-shooter?
- If it makes Quake popular, I'm not against anything
- Which of the old mechanics are still in the game? Is the speed the same as it was, how are weapons feel?
- In that case they decided to unite all the dynamics and physics of all previous Quakes, so if you want, you can choose different characters with different physics, some faster, some slower, having more HP but less speed etc. Well they trying to balance the champions, so those aspects are all positive.
= What can you say about maps?
- We have two old maps and two new ones in duel, i hope that only new maps will be played and the old ones would be left in archive.
- Now the question about Virtus Pro. Tell your impressions, how did you come to the game, what are you expecting from your cooperation, what plans do you have?
- Well, new Quake was announced as well as 1 million dollar tournament in august at QuakeCon, the players and organisations new that already, but the official announcment was needed. I had conversations with american teams, they were first to contact me, then general manager of Virtus Pro and we both came to agreement that i need to sign them. So from that point I'm on positive wave. I was the member of many teams, and now I'm in VP and i see how people here are obsessed with it, very strong organisation, strong inside.
- If it's not a secret, why did you choose russian team over american?
- Well, maybe 5 years ago I would 100% choose some foreign organisation, but looking at things VP do, how they develop e-sports in CIS an in the world, I want to be part of it and develop the thing here in CIS, and not in America.
- What's your favorite hero now?
- I think Slash
- Blitz. Mega or Red Armor?
- Depends on hero.
- DM6 or ZTN3DM1?
- DM6
- Rocket or Rail?
- Rocket
636 Hits