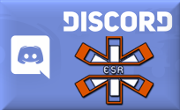 An

ESReality
discord server is now up and running - you can visit us using the
invite link
- the aim is to have a place where users can inquire about general information, nag the admins, discuss thunderstruck 1v1 battles or just hang around, tell us more about your suspicious 50.000 overnight hits.
The admins are at your disposal if you need help with editing or publishing an article or if you're encountering issues with the site.
So far we've got the general channel open for everyone, others can be added by request (quake-talk, help channel etc).
Link:
'Official' Discord channel
Edited by Badb0y at 12:58 CST, 2 March 2017 - 4501 Hits