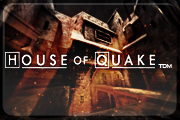 The third round of
HoQ CA 4v4 Spring Season 2016
was played on April 7th featuring four matches across three divisions. A couple of close matches played in Division 1 and Division 2 made this day very interesting for all CA lovers.
The match results are the following:
Standings:
First things first. There's some bad news that involves a particular team in division 3. The team in question is

Dretwe Lamy
, who unable to field enough pla
yers to play their games have decided to drop out of the tournament. All the matches have therefore been forfeit wins for their opponents which sees them getting 3 points each. As far as division 3 matches go, there were two played. It seems
2 Steps to Hell
stepped up their game and won against
Frag Emm Clan (F*E*C)
in a 2:0 map win. Unfortunately, for the
Because life is izi...
clan life proved to be a lot more difficult when facing
Loaded/Gunz
. With a 2:0 win, LG are toping the group with 12 points with a close second 2StH with 9 points and [IZI A] 3 points.
Exciting things are happening in division 1 and division 2. The main event of the evening being a div 1 match between
ENERG
and
The Northern Tribe
. A match that could very well turn out to be the decider for the winner of the group. In that retrospect ENERG is in a better position as they won over tnt in a 3 map thriller, settling down on a 2:1 score. So far ENERG and tnt are tied in the number of points, six to be exact. Having
Team CODIAN
and
whylove
breathing down their necks.
Another hair pulling match was taking place in division 2 where the
Team PULSE
got the scalp off
White Ivory
. The three mapper clash proved to be a bit too much for White Ivory as they are now third in the group with 3 points. Two Denmark teams are leading the fray in this group with a tie of six points each.
This looks like to be a great CA season as things are pretty even so far. Indeed, not many matches have been played until now but some of the key ones have been and their outcomes are setting the stage for high quality confrontations.
Note:
The servers used for official games MUST have HoQ gametype factories (hoq_ca) to enforce the proper CA settings. Please check the
rules
if you are not sure about something or contact a HoQ CA admin.
Links:

funnyb YouTube playlist
,
Results
,
Schedule
,
Rules
Edited by viaIImaximus at 12:49 CDT, 12 April 2016 - 8350 Hits