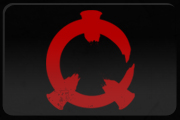 Reflexrun,
a standalone HUD with a set of maps which enables you to time runs and more! After Quartz and I really started getting into the extensive capabilities of Reflex and its Lua scripting introduced in 0.33.0, we came up with an idea on implementing a proper overlay with functionality for Movement and Run recording. As there is currently no Defrag mode implemented in the game, and its something I personally can't wait for, we figured we would make it possible with the means available.
How do I get started ?
We have included a Read-me in the download pack that explains how to install it etc so dont worry!
Reflexrun v0.8 Features
Timer to time your runs
Best time timestamp
Previous time timestamp
Previous 5 best times on map
Custom, more visually clear "keypress" icons.
Custom sound design
Record award ( when you get a new best time on the map )
Speedmeter ( ups )
Custom tutorial scoreboard ( tab )
We made Reflexrun with you guys in mind and therefore made it super easy for you to share your runs without any post production. We have included your player name, map name, and all other information directly into the HUD so you dont need to do anything in post production ( just record your run with Fraps / OBS and your ready to go ) - Reflexrun words in Spectator mode and in Player mode that means if you want to watch your friend that is possible also. Just make sure you are on a Reflexrun optimized map which you can see by the "RR" before the name of the map - eg "RRreflexjump"
We are looking forward seeing awesome Reflexrun maps from the community and really hope allot of you get involved to help us make this as exciting as we think it is!
Download it here -
http://phgp.tv/news/reflexrun-available-now/
4538 Hits