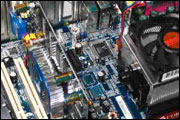 Hello guys, I will buy a new laptop in like 2 months, and I have some thoughts on it, but I am sure that there are some guys who knows more than me:) so I need your opinions. My budget will be about $1.800.
First I will list what i want
- NVIDIA GeForce GTX 680M or 675
- 12GB Ram (3ds and render things)
- Intel Core i7 3630QM(2.40GHz) or more(will I need?)
- SSD?? (not sure)
- I dont want 17" screen actually, because as you know it is really hard to play on laptop screen, if it will be 120hz, why not, but I am thinking, if I can pay like 1500dollars on a 15" computer I can but a good monitor too.
These 2 are seems to be my options
MSI GT Series GT60
MSI GT Series GT70
Also I have checked alienware M14x, but I think its graphic card cannot be changed. So What will be your thoughts about this? and maybe monitor suggestions?
btw, I am an architect, but I will study abroad, thats why I want powerfull computer, also I want to play games :)
4712 Hits