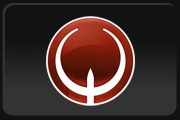 Have started a project where i record some of Australia's top duellers playing, while they think out loud.
(edit* for what its worth, am also doing something similar for CTF, here:
http://4seasonsgaming.com/forums/viewtopic.php?f=41&t=2828
- with CTF game analysis to come, as well as vids of players playing different positions on each CTF map WITH team commentary)
I think it's a really good resource, intended primarily for the new to intermediate-advanced players. We realise the level of duelling in Australia does not necessarily reach the standard of cypher/rapha etc, but for the purposes of teaching this bracket, the resource is very good.
Please note that the games themselves are not necessarily between the highest level of duellers... thats not the point of this project. I may record such games in the future, but its quite distracting to play while thinking out loud and explaining things, so not sure how successful that will be.
I
am
planning on doing something similar to the ESL Classics Rapha and Cooller vids, except with some of Australia's top players. Feel free to request demos from Adroits/DH that you would want analysed.
For what its worth, I PM'd some of the better international duellers that i found on IRC, but have not yet recieved a positive response. Am willing to wake up at odd hours to record top European / US players for a map or two.
I will try and keep this post updated with the vids as they get put up.
For now:
ZTN
Camma [pov] vs Josh
zlr [pov] vs shadow
fraze [pov] vs disruption
Hub
zlr [pov] vs siilva
dm13
fraze [pov] vs disruption
toxicity
fraze [pov] vs hatski
furious heights
fraze [pov] vs disruption
fraze [pov] vs hatski
First time making a thread on ESR, hopefully the main contents and the formatting doesn't stuff up :B
edit: 13 december 2012-
adding in more stuff:
Playing out of control:
fraze camma t7 -
http://youtu.be/j6RPmo3IzyQ
fraze camma toxicity -
http://youtu.be/P47avEft0x0
fraze disruption hub (out of control) -
http://youtu.be/GV9yPkJoko8
fraze disruption t7 (out of control) -
http://youtu.be/bgCjvkCJ_xI
fraze disruption ztn (out of control) -
https://www.youtube.com/watch?v=yfTJO9UiXEA
fraze analysis of rapha cypher t7 game from DHW11 -
https://www.youtube.com/watch?v=JFkOEJyrlL4
edit: 01 march 2013
Fraze in Europe - playing against etty and rehepapp-
http://www.youtube.com/watch?v=jKPdFkoy_Z8
http://www.youtube.com/watch?v=tvJVslXxKhY
http://www.youtube.com/watch?v=rPLhE7KTH34
edit: 6 march 2013
Fraze in Europe - playing against Gekko
http://youtu.be/tZ06WbxkPuA
http://youtu.be/qRutqIYi6tM
http://youtu.be/UXwR1bEU1TE
http://youtu.be/siAMZTUs8S0
http://youtu.be/Bg6neou9sAo
edit: 27 June 2013
How to maintain and play in control
ztn vs fridgey:
http://www.youtube.com/watch?v=5GCRfICa6UA
aerowalk vs mylesman (how to stay in control):
http://www.youtube.com/watch?v=aAaGGCKuvkg
toxicity vs mylesman (how to stay in control):
http://www.youtube.com/watch?v=l655BwiCYPQ
furious heights vs inertia (how to stay in control):
http://www.youtube.com/watch?v=vfqKFj6z70M
edit: addded more (23 december 2013 - fraze in europe)
http://www.youtube.com/watch?v=WOPiKVotT_k
- t7 out of control - good watch
http://www.youtube.com/watch?v=yu25zAtN1s4
- Sinister (first vid)
http://www.youtube.com/watch?v=m8r6kiSxwSY
- Sinister (second vid)
http://www.youtube.com/watch?v=7EJrdeahUUc
- Cure (first vid)
added more (31 May 2014 - fraze in europe, playing vs Spartie)
http://www.youtube.com/watch?v=g52foXfRVtw
http://www.youtube.com/watch?v=Iqi73FfJXWM
http://www.youtube.com/watch?v=zXHHihlDu-0
http://www.youtube.com/watch?v=3-c9vdbEXIA
http://www.youtube.com/watch?v=xbCh12BsWdc
Edited by grrrdian at 04:03 CDT, 31 May 2014 - 41666 Hits