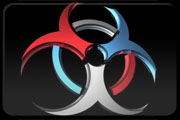 UPDATE:
The match deadline for the WB Round 1 is Thursday May 24, and WB Round 2/LB Round 1 is Tuesday May 29. Competitors should start scheduling their matches now. Please report the match time to
nineX
or
wonko
if you would like your match streamed.
Competitors in the Ready Up Radio CPM Duel League fought hard in group stages and now 16 players move on to
Double Elimination rounds
. There were a good amount of close games and even some surprises along the way. Check out the
Ready Up Radio Twitch.tv page
for VODs from several group stage matches.
In addition to the news about players advancing to the next round, we are also announcing additional prize money and extending it to fourth and fifth places. This is due to the extreme generosity of several people within the community:
Enthal
and
MaverickMGS
, who each donated $50. The new prize money allocations are as follows.
Prizes:
$85 for first place, $60 for second place, $35 for third place, $15 for fourth, $5 for fifth. A schedule for the group stages will be announced in the next couple of days on the tournament's rules page; please check their periodically.
Links:
Tournament Page
-
Ready Up Radio
-
Stream
-
Rules Page
-

#uscpmpickup
Edited by Badb0y at 18:10 CDT, 20 May 2012 - 4318 Hits