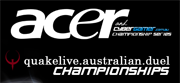 In case you missed the
original post
this weekend Australia will be holding their first ever Quake Live WAN in order to crown a winner of the Acer and Cybergamer Australian Quakelive Duel Championships.
It has been an extremely long break for

Andrew "
python
" Chacha now known to the Oceanic scene just as ChaCha. From dominating the Australian Scene for years in Quake3, to competing internationally against a lot of the Q3 greats, python has established his overall duel game to that of near unbeatable by any former Australian player. Now with the game itself progressing into a slightly modified version, Quakelive, it will be a massive test to all our players who have been training and practicing so incredibly hard for this moment to take the title from him.
Thanks to QL.TV, Holysh1t.net and ofcourse our 4SG Streamers this game will be easy to watch for the Americans, Europeans and Oceanic region.
Link
:
Tournament Page
Streams
:
4SeasonsGaming TV
,
Holysh1t.net
,
Quake-Live.tv
Edited by xou at 08:29 CDT, 4 June 2010 - 9145 Hits