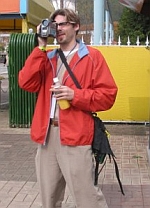 This interview was made at the CGS World finals (2007) and was intended to be published in the 3rd issue of Pro Gam3r Magazine which was never released. I found it yesterday and I thought it was still interesting enough to publish today.
Obligatory quotes:
For Graham another thing to provide job satisfaction are the people in gaming. "Some people don't understand how great the people in gaming are. Some of my best memories, whether it be with clan mates or rival team members, or other gamers, or coaches, or managers, some of my greatest memories have been at events and in gaming."
"All I can say given in terms of advice is fuckin' get off your ass and do it". You heard the man. The future of competitive gaming doesn't solely rely on players, there's more people involved in it than that. Let's see some new faces at events. Like Marcus and other figures in the e-Sports industry, you have to take a risk. You've got nothing to lose from simply trying.
Click here
to read the full article (or to look at more goofy pics from WCG 2002).
Since the closure of the CGS, dj Wheat has moved away from LA and continues to run several gaming shows which you can find more about on
http://www.djwheat.tv
.
If you're interested in more features that were in Pro Gam3r (but you never got the mag) there is also
Stermy's feature
.
Edited by Badb0y at 01:44 CST, 3 February 2010 - 27950 Hits